The sun came out, which since changing the clocks back, is as ever a blessing. The extraordinary Manuela Hübner  delivered an encouraging and thought provoking introduction to herself, her work as an artist and the journey that got her to the place she is now. This is an example of the work Manuela produced when I first met her;
German by birth, Manuela has worked as a translator in editing, spending inordinate amounts of time working at a computer screen. Ten years of this career almost broke her, but in spite of two severe breakdowns, several months incapacitated, creativity kept her from drowning. Discovering that she was unable to fulfill her creative need with her dominant hand, exploration of her ambidextrous ability and continual practice led to creativity, far beyond her previous dominant hand ability.
Now two years since her #LeftTurn she has been working on a series called Hypnos, the exhibition for which opens soon, in Cambridge. Details below, but here's a taste of that work for now…
In order: The Convalescent, 4 AM (knows all my fears) & Balm of Hurt Minds
Working in soft (chalk) pastels, Charcoal, pencils and ink, to start everyone found something within the room to inspire them to draw, as it was Halloween pumpkins were in ample supply, plants within the room and people were all attempted in a quick sketch, with our customary, or dominant hand.
After a break, Manuela encouraged the group to explore working with the non-dominant hand. In some cases attempting to use the sugar paper, circle masks to push the drawing pencils through in an attempt to 'blind draw'; concealing the image as it is drawn to reduce the likelihood of people bringing a halt to the activity, because of preconceived  perceptions of 'good drawing'.
We also talked about Serendipity, the happy accidents, which oftentimes without intention, present a simple, but beautiful outcome: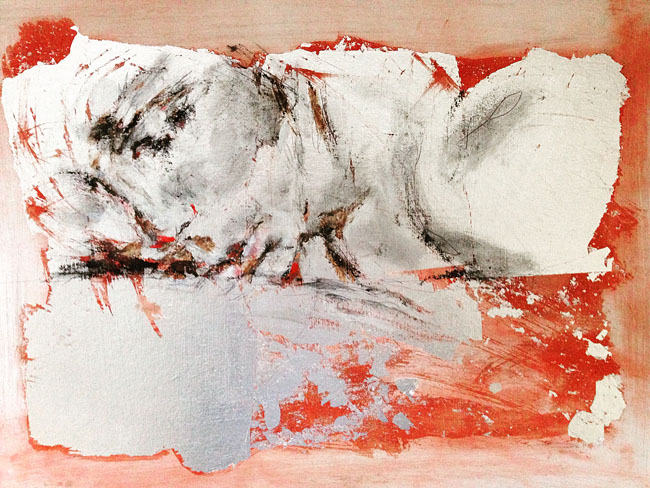 Hypnos
A series of mixed media paintings revolving around sleep, insomnia, dreams, the subconscious, night time… and their significance for our existence.
15 – 24 November 2018
Makers' Gallery, 3-4 Hope Street Yard, Cambridge CB1 3NA (map)
Opening night: Thu 15 November 5.30 – 8pm
Opening times:
Thu 15, Fri 16: 11am – 6pm
Sat 17: 11am – 5pm
(Sun 18, Mon 19: closed)
Tue 20, Wed 21, Thu 22: 11am – 6pm
Fri 23, Sat 24: 11am – 4pm